About Us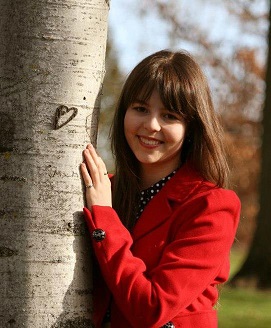 Savannah Loberger
I ran the Girls Get IT! (Innovative Technology) day camp for girls in the community to show them the girls that they can do engineering and technology. The camp will be five half days over one week. My target is 7th-12th grade girls who don't know what engineering is or are curious about engineering. The location will be at Hillsboro High school. I will be coordinating volunteers to teach classes, coordinating snacks, organizing and seeking donations, and will be creating a one stop website for girls all over the world about what we did and how they can do it in their community. I want girls to feel confident in an overwhelmingly male environment. Our focus will be on STEM (Science, Technology, Engineering, and Math). I hope that I can show girls that they can do whatever they want to even if it means breaking down the barriers of stereotypes.
I want to give girls in the community a hands on experience encompassing all aspects of STEM so they can learn with their peers in a fun and creative environment; something that they might not otherwise have the opportunity to do. I want them to realize STEM is for girls too. The day camp will consist of several classes and workshops. The classes are listed on the Task-Emphasis sheet and some are science projects, computer hardware, game making, basic programming languages (RobotC and NXTG), CAD (computer aided drafting) software, and web programming, and they will be able to work with rapid prototyping machines including a Makerbot and a laser cutter.
The last day will be a "career day" where girls can make contacts with women in our community that are breaking the stereotype, "girls don't belong in engineering", and how they (as high schoolers or middle schoolers) can get involved with the local engineering community. I want the girls to realize all the opportunities there are for them and help them get the doors opened. The purpose of the career day will be to create contacts and role models for the girls.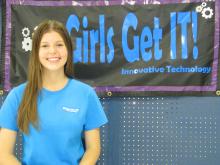 Ashley
Camp Director 2014
Teacher 2012-2013
Outside of Girls Get IT! Ashley plays softball, runs cross country, and is on the swim team. Ashley is involved in Girl Scouts, robotics, National Honor Society and Key Club. She is an NCWIT Aspirations in Computing Award Winner with which she applied and won an Aspire IT grant for this program. She enjoys her technology classes at school and her focus program of study is drafting. Ashley attended the first year of Girls Get IT! and became a teacher the following year. She loves teaching GameMaker, computer aided design, soldering and Arduino. Ashley has a passion for STEM and she loves giving girls who have not had the opportunity to experience STEM, the environment to feel confident in their own abilities.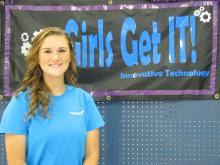 Erika
Teacher 2012-2014
Erika loves to play softball and is involved in Girl Scouts. She is passionate about Student Government and enjoys playing a part of leadership at her high school. Erika's favorite class to teach at Girls Get IT! is robotics. The robot flash mob is always one of her highlights of the camps!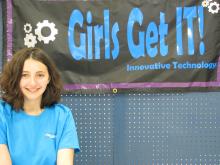 Alexa
Teacher 2013-2014
Alexa participates in the international baccalaureate program, and has taken multiple technology classes as electives. Outside of school she enjoy rock climbing, roller skating, taking long walks and petting her nine pets. She enjoys traveling and visiting family across the sea. Overall, she enjoy being able to work on projects that she believes will make a positive impact on her community while being surrounded by bright, kind and funny people.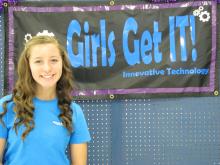 MaryCatherine
Teacher 2013-2014
MaryCatherine runs track and cross country and is the leader of a newly created tech club. MaryCatherine is also very involved in Girl Scouts. During the summer, in addition to teaching at Girls Get IT!, she is a track coach. MaryCatherine is a NCWIT Aspirations in Computing award winner.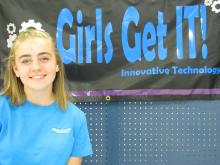 Madi
Teacher 2013-2014
Madi is an active Girl Scout and loves to play volleyball and softball. Her favorite class to teach at Girls Get IT! is robotics and HTML. Madi loves seeing the creativity that the campers bring to their websites that they design themselves. When she grows up, she knows that she will use her knowledge of technology to help her in her future career.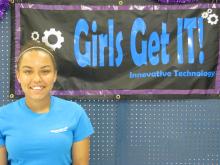 Victoria
Intern 2014
Victoria runs cross country and track and has played basketball. She volunteers often because she wants to see her community thrive, and she loves the feeling of helping others. Victoria's favorite place to volunteer has been Girls Get IT! Her favorite class to teach is SolidWorks because it's fun to allow the girls to go in different directions as to what they want to design. She loves that she can empower girls who are close to her age, knowing that they are very much alike. An interesting fact about her is that her eyes change colors and she loves cooking! Although Victoria is not certain as to what career she'd like to pursue, she does know that some sort of engineering will be involved.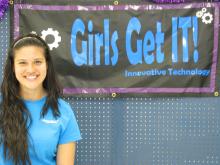 Perla
Intern 2014
When Perla was growing up, she knew she wanted to become an engineer but didn't know where to start until she took technology classes where her teacher, first introduced her to Girls Get IT! She attended the summer program as a camper and is now a teacher. Everything started with a promise and now she is involved in Girl Scouts and had an internship at Digimarc. All thanks to Girls Get IT! she developed skills that will help her fulfill her dreams of becoming an engineer.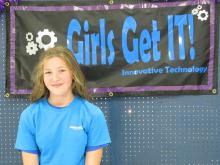 Rachel
Intern 2014
Rachel loves STEM! She has been exposed to many STEM projects, teams and activities through her older sisters and it is because of her sisters' positive influences that has enabled her to grow to love it as much as she does. She likes to build robots on her robotics team. Rachel enjoys sports as much as STEM and has been playing soccer for over 4 years and loves to swim. Rachel loves to read and her favorite class in school is math. She is in a Girl Scout troop and likes to meet new friends and helping out within the community. She isn't sure what she wants to be when she grows up; Rachel just knows that she wants to go into STEM in the future.